Back to the Owls Page
Back to The Plexus Home Page
---
The Strange Story of the Owl Who Called My Name

Bruce G. Marcot

This happened during one of my first trips to India to work on wildlife conservation there.
I was staying in a guest house in northern India in the foothills of the Himalayas, in the Shivalik Hills outside of the town of Dehra Dun. The Shivaliks are named for Lord Shiva, the Destroyer and Recreator, whom Hindus believe resides in the Himalayas.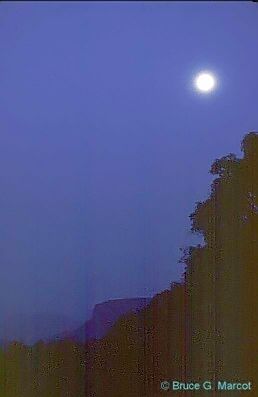 Late one night, after an evening of journal entries and a little meditation, I was deeply asleep and had a most startling and vivid dream. I dreamt that the spirit of an owl was trying to enter me, to take over my being and my soul. It was a palpable presence. Startled, in the dream I remember instinctually resisting it.
I then abruptly awoke to the dark unfamiliar room, still feeling the clarity and intensity of the dream images.
It was then that I heard a weird, wavering call outside, faintly, in the night.
I stepped out onto the porch and stared into the darkness. In the distance, dogs barked. Then, there, I clearly heard it. It was an owl.
I retrieved my tape recorder and chased it into the dark woodland ... making several recordings ... out into the Indian night, following the bird, hearing it call, leading me on, but never seeing it.
I still can't help but wonder if it was the entity of my dream ...
------------------
Likely, it was a Mottled Wood Owl (Strix oscellata), as I would later identify it.
The photograph above is actually of a full moon rising over the steep Western Ghats mountains of south India (not the Himalayas) where I encountered other owl species -- Oriental Scops Owl (Otus sunia), Brown Wood Owl (Strix leptogrammica), Brown Fish Owl (Ketupa zeylonensis).
---